Transwrap VCI Corrosion Protection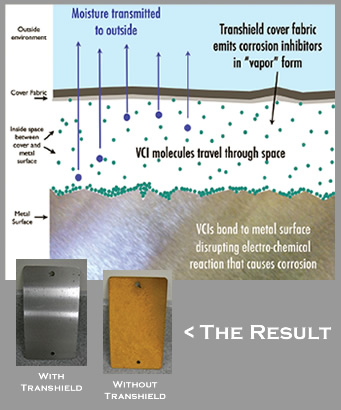 Transhield AAD (Adhesive Additive Delivery) System delivers VCI (Vapour Corrosion Inhibitor) chemistry for the protection of packaged metals and offers several advantages over conventional VCI packaging materials.
The majority of the VCI chemistry is emitted inward to expose only the enclosed packaged environment to the VCI chemistry, allowing better control over metal passivating without wasting and emitting large amounts of VCI vapors (i.e., Transhield VCI emits one way).
The VCI in the adhesive is held away from the metal by the porous non woven allowing the VCI in Transhield to volatise before it reaches the metal, thus producing the optimal application of VCI to metal.
The shrinking process heats the adhesive up to a level where it will emit 10+ times the normal VCI vapors. The charges the packaged environment with a vapor pressure at the time of shrinking versus minutes or hours later.
All Transwrap materials use a combination of Capillarity and Moisture-Surface-Tension to remove moisture and lower relative humidity to a level at which corrosion is much less likely to occur.