Why Choose Transwrap For Marine OEM Applications?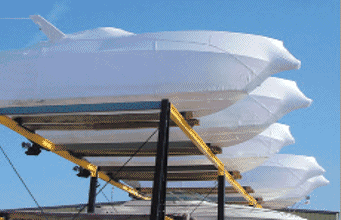 Transhield is a patented alternative to conventional wrapping film. With conventional shrink-wrap products, vibration during transport is a leading of cause of damage to boat finishes. Transwrap virtually eliminates the problem with its unique non-abrasive non woven layer.
Custom fit covers combine the ease of a cover with the tight fit of shrink wrap. Transwrap covers can be left on boats for an indefinite period of time without causing moisture damage, allowing boats to be stored outdoors until they have been sold and can be used by the customer for up to two years after the sale. Transwrap transportation and outdoor custom storage covers can be tied to boats for easy removal and inspection by the dealer or the buyer.
Transwrap – Easy and Convenient
Transwrap covers are easily applied in just minutes and shrinks down to a tight fit 2-4 inches past the machine for the ultimate protection during transportation.
Transhield – Three Layers Of Protection
Transhield's 3-layer internationally patented material provides premium protection to high gloss surfaces of all sizes.