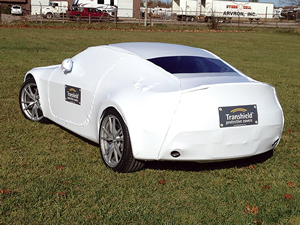 Transwrap
Original Transhield is a patented three-layer Shrinkable Fabric™. The outer layer is a special polyethylene shrink/stretch film. The middle layser is a hot melt adhesive containing no solvents. The inner layer is a soft, cloth-like polyester material. The combination of these three products provides outstanding surface protection to even Class A automotive finishes during transportation or storage. Transwrap's unique, non-abrasive composition protects from the elements during and storage, without causing damage to paint, gel coat or even decals.
Transwrap With VCI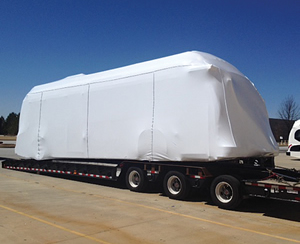 Transhield's patented Adhesive Additive Delivery System (AAD) delivers Vapour Corrosion Inhibitor (VCI) chemistry for the protection of packaged metals. The heat of the shrinking process warms the adhesive to a point where it emits 10 times the level of normal VCI vapors. Transhield with VCI removes moisture from stored products and helps eliminate corrosion for stored metal products. Also removes moisture from products during shipping. Transhield with VCI removes moisture from products during shipping and storage thereby helping to eliminate corrosion for stored metal products.
Transhield By Kennon
Two of the leading companies in protective covers have joined forces to create the ultimate in cover protection technology. Transhield's patented material containing VCI is used to make the Kennon designed aircraft covers air maintenance crews have grown to rely on for years. The engineering and technology in the cover combine to lower maintenance costs and increase mission readiness.
ArmorDillo®
ArmorDillo fabric is a highly durable, 100% waterproof fabric that protects against the outdoor elements. The breathable polyurethane coating and advanced fabric wicking technology allows moisture to escape, but not enter under the cover.
The vapour corrosion inhibitor (VCI) protects against corrosion, mold and mildew. The nonwoven inner lining will not damage the product finish and is printable with custom graphics. While ArmorDillo is not shrinkable, it excels in the day-to-day, on/off cover applications.
Transhield XT
More durable non-shrink cover featuring corrosion reducing technology.